Products
Actuators
Burner Controllers
Combustion Air Fans
Digital Test Equipment
Gas Filters
Gas Detection
Gas Meters
Gas Metering Communication & Data Collection
Heat Exchangers
Industrial Burners
Package Burners
Gas Pressure Regulators
Gas Safety Shut Off Systems
PLEXOR Wigersma & Sikkema
Pressure Switches
Valves
Other Products
Accutherm Education Dept ACCU-TEST (QLD) Gas Safety Shut Off System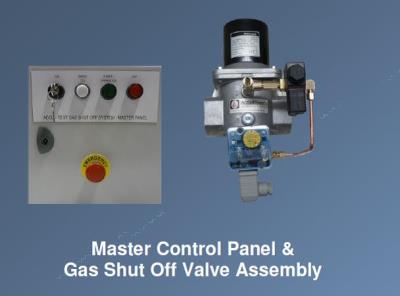 Accutherm's Gas Safety Shut-off system, the "ACCU-TEST" is purposely designed to prevent gas being restored to open, unsafe downstream piping, appliances and outlets or after a loss of power. Accutherm has customised a two system ACCU-TEST specifically for Education Facilities. MASTER SYSTEM: To be installed in the main gas supply. ROOM SYSTEM: To be installed in the gas supply to each room. The gas supply can be interrupted either by manual activation or automatically. The MASTER SYSTEM is fitted with a 24 hour 7 day timer, for programming during commissioning, to set the time period for each day that the main gas supply is available to be switched on and the time that the main gas supply is switched off. Each ROOM SYSTEM is supplied with a combustible gas leak detector to be installed in the room that will shut off the gas supply if the gas detector senses gas leak in the room. It is also possible to safely shut off the gas flow by connecting remote interlocks such as Emergency Stop "E-Stop" buttons, fire alarms or such like inputs into the control circuit. The ACCU-TEST system will also cut the gas flow to downstream pipe work in the event of a power failure. Once power is restored the system will need to be manually reset, this requires all gas outlets downstream to be closed before the system will allow gas to be safely delivered.
Have you got a question?
Phone us on (03) 9763 6335 or send a message...
Complete and send the enquiry form below and we'll get back to you ASAP