Products
Actuators
Burner Controllers
Combustion Air Fans
Digital Test Equipment
Gas Filters
Gas Detection
Gas Meters
Gas Metering Communication & Data Collection
Heat Exchangers
Industrial Burners
Package Burners
Gas Pressure Regulators
Gas Safety Shut Off Systems
PLEXOR Wigersma & Sikkema
Pressure Switches
Valves
Other Products
BASO H15 Series Automatic Pilot Valve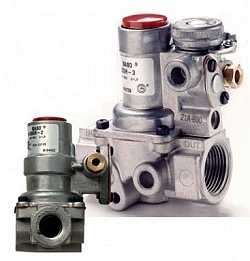 Provide safe lighting and complete shutoff of pilot and main burner gas in the event that the flame heating the thermocouple is extinguished
Designed for standing pilot applications and can be used with natural or LP gas up to 0.5 PSI
Applications include commercial cooking equipment, room heaters, wall heaters, unit heaters, industrial ovens.
Sizes range from 3/8" NPT to 1" NPT and both standard and high temperature models are available.
Have you got a question?
Phone us on (03) 9763 6335 or send a message...
Complete and send the enquiry form below and we'll get back to you ASAP