Products
Actuators
Burner Controllers
Combustion Air Fans
Digital Test Equipment
Gas Filters
Gas Detection
Gas Meters
Gas Metering Communication & Data Collection
Heat Exchangers
Industrial Burners
Package Burners
Gas Pressure Regulators
Gas Safety Shut Off Systems
PLEXOR Wigersma & Sikkema
Pressure Switches
Valves
Other Products
Eclipse AirHeat V1 Burner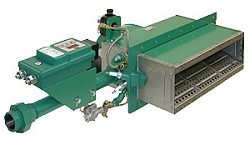 As an industry standard, this low emissions AirHeat burner has a compact modular design that provides reliable operation year-after-year, with minimal maintenance. Applications include ovens, dryers, fume incinerators and similar industrial equipment. All models feature an integral combustion air blower mounted on the burner's steel case for unmatched air heating performance. By supplying the correct air volume and pressure to the burner, this blower allows stable operation over a wide range of duct velocities without installing a profile plate around the burner. The AirHeat burner burns natural gas or propane (butane versions are also available), and the burner can be ordered without a blower for usage in recirculating air applications.
Have you got a question?
Phone us on (03) 9763 6335 or send a message...
Complete and send the enquiry form below and we'll get back to you ASAP