Products
Actuators
Burner Controllers
Combustion Air Fans
Digital Test Equipment
Gas Filters
Gas Detection
Gas Meters
Gas Metering Communication & Data Collection
Heat Exchangers
Industrial Burners
Package Burners
Gas Pressure Regulators
Gas Safety Shut Off Systems
PLEXOR Wigersma & Sikkema
Pressure Switches
Valves
Other Products
Eclipse ER Indirect Air Heater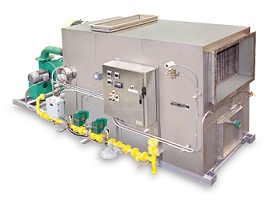 ER Indirect Air Heaters Produce Clean, Hot Air, Free of Combustion By-Products
Eclipse ER Indirect air heaters are ideal for heating and drying applications requiring contaminant-free process air. These low NOx heaters deliver the lowest emissions of any indirect heaters available. Typical applications include pharmaceutical spray dryers, chemical dryers and drying ovens. In addition, Eclipse offers dairy spray dryers designed to meet the requirements of spray-drying applications in the dairy industry. In summary, Eclipse ER Indirect air heaters combine all the benefits of an indirect air heater along with the energy efficiencies provided by a full integrated Exothermics heat recovery system.
Have you got a question?
Phone us on (03) 9763 6335 or send a message...
Complete and send the enquiry form below and we'll get back to you ASAP