Products
Actuators
Burner Controllers
Combustion Air Fans
Digital Test Equipment
Gas Filters
Gas Detection
Gas Meters
Gas Metering Communication & Data Collection
Heat Exchangers
Industrial Burners
Package Burners
Gas Pressure Regulators
Gas Safety Shut Off Systems
PLEXOR Wigersma & Sikkema
Pressure Switches
Valves
Other Products
Eclipse Minnox Burner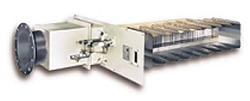 The Eclipse Minnox gas burner exceeds all international emission standards for NOx and CO--less than 5 ppm NOx and less than 30 ppm CO at 3% 02. The patented Minnox burner design utilizes a premixed gas/air mixture with excess air.
Minnox allows Eclipse customers to use efficient direct-fired air heating to safely process food products, malt, auto finishes, lumber, paper and other products with no performance penalty, while holding the line on emissions, regardless of the emission standards in their country.

Have you got a question?
Phone us on (03) 9763 6335 or send a message...
Complete and send the enquiry form below and we'll get back to you ASAP