Products
Actuators
Burner Controllers
Combustion Air Fans
Digital Test Equipment
Gas Filters
Gas Detection
Gas Meters
Gas Metering Communication & Data Collection
Heat Exchangers
Industrial Burners
Package Burners
Gas Pressure Regulators
Gas Safety Shut Off Systems
PLEXOR Wigersma & Sikkema
Pressure Switches
Valves
Other Products
Elgas S.R.O. DATCOM-AMR2 Communicator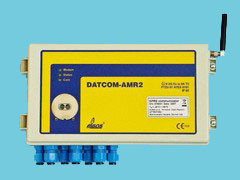 GSM/GPRS communicator DATCOM-AMR2 belongs to the product family of Automatic Meter Reading devices. DATCOM-AMR2 collects data from connected correctors, digital inputs or internal states, and saves them into internal high capacity memory. The collected data are then regularly sent to the remote superior system.
DATCOM-AMR2 is powered by lithium batteries with no option of an external power supply, making to suitable for installed in a hazardous area.
DATCOM-AMR2 can be easily adapted to corrector's communication interface which can be equipped by exchangeable serial communication module. There are several communication module variants available (RS485, RS232, UNIWIRE etc)
Have you got a question?
Phone us on (03) 9763 6335 or send a message...
Complete and send the enquiry form below and we'll get back to you ASAP