Products
Actuators
Burner Controllers
Combustion Air Fans
Digital Test Equipment
Gas Filters
Gas Detection
Gas Meters
Gas Metering Communication & Data Collection
Heat Exchangers
Industrial Burners
Package Burners
Gas Pressure Regulators
Gas Safety Shut Off Systems
PLEXOR Wigersma & Sikkema
Pressure Switches
Valves
Other Products
Exothermics Air to Air Industrial Aluminum Heat Exchanger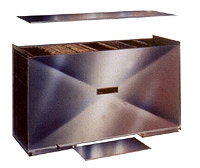 Is built to handle the toughest applications with ease, and that`s because it`s constructed of the highest quality aluminum. A single sheet of .025" non-embossed heavy gauge aluminum is stamped and folded to form a one piece heat transfer core featuring 1/2" W-I-D-E plate spacing. The core is enclosed in an 8 guage aluminum casing, complete with aluminum extrusions and angles for duct connections. It`s fixed plate, counterflow design allows the hot air stream to pass through the exchanger from end to end and the cold air stream to pass through in counterflow. The two segregated air streams flow through individual passages formed by the plates within the exchanger, allowing the cold inlet air to enter at the end where the exhaust air exits, and to leave at the end where the hot exhaust air enters. The plate separating the two air streams acts as the heat transfer medium.
Have you got a question?
Phone us on (03) 9763 6335 or send a message...
Complete and send the enquiry form below and we'll get back to you ASAP