Products
Actuators
Burner Controllers
Combustion Air Fans
Digital Test Equipment
Gas Filters
Gas Detection
Gas Meters
Gas Metering Communication & Data Collection
Heat Exchangers
Industrial Burners
Package Burners
Gas Pressure Regulators
Gas Safety Shut Off Systems
PLEXOR Wigersma & Sikkema
Pressure Switches
Valves
Other Products
Hauck 780 Series Burner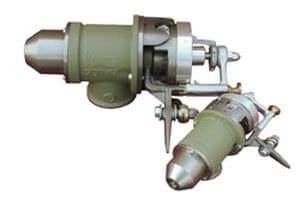 The 780 Series burners are self-proportioning, oil-fired burners designed for highly efficient operation using low pressure atomizing air. This results in lowered operating costs due to the reduced power consumption of a low-pressure blower compared to an air compressor. The 780 Series also eliminates the need for costly high-pressure steam for atomization and the need for an atomizing air blower. The burner will operate with air pressures ranging from 16 to 32 osig (6,900 to 13,800 Pa).
The 780 burner is not designed for sealed-in ratio firing in a cold furnace. Special mounting brackets with induced airports are used to mount the burner to a furnace wall.
All grades of fuel oil, even the heaviest, are completely atomized to provide the most efficient combustion. Superb atomization is
achieved by controlling the air flow at the nozzle outlet. Constant full primary and secondary atomizing air pressure are maintained at the point of atomization. This unique characteristic of the 780 Series ensures complete atomization over the entire burner capacity range.
Have you got a question?
Phone us on (03) 9763 6335 or send a message...
Complete and send the enquiry form below and we'll get back to you ASAP