Products
Actuators
Burner Controllers
Combustion Air Fans
Digital Test Equipment
Gas Filters
Gas Detection
Gas Meters
Gas Metering Communication & Data Collection
Heat Exchangers
Industrial Burners
Package Burners
Gas Pressure Regulators
Gas Safety Shut Off Systems
PLEXOR Wigersma & Sikkema
Pressure Switches
Valves
Other Products
Hauck ECO-STAR II Packaged Low NOx Multi-Fuel Burner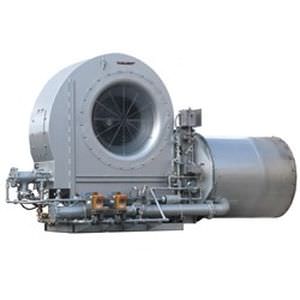 The Eco-Star II precisely controls air/fuel ratio over its entire operating range with a 100% total air design. This proven technology reduces inefficient excess air, lowering fuel costs and improving production.
The burner's compact skid-mounted package adapts easily to most installations. The burner's wide range of flame shaping ability allows the flame to be adapted to specific process requirements. All combustion is completed within the recommended combustion zone, further reducing emissions by eliminating flame quenching from process materials.
With the same excellent burner stability as its EcoStar predecessors, the Eco-Star II offers design and performance advantages in a service accessible profile and compact, easy to install package. The burner supports a wide variety of liquid and gaseous fuels offering flexibility for optimizing fuel costs. Low-pressure atomization is used for light fuel oil or LP with high pressure compressed air atomization available for heavy fuel oils or high elevation installations. Emissions of NOx, CO and VOCs are minimized with proven, state of the art technologies.
The Eco-Star II is designed to be a uniquely reliable low emission burner.

The Eco-Star II's sealed-in construction, coupled with its high-efficiency aerodynamic design, significantly reduces operational noise. As with all Hauck products, the Eco-Star II is backed by our internationally recognized service department and our more than 50 years of experience as a leader and partner to the asphalt industry.
Have you got a question?
Phone us on (03) 9763 6335 or send a message...
Complete and send the enquiry form below and we'll get back to you ASAP