Products
Actuators
Burner Controllers
Combustion Air Fans
Digital Test Equipment
Gas Filters
Gas Detection
Gas Meters
Gas Metering Communication & Data Collection
Heat Exchangers
Industrial Burners
Package Burners
Gas Pressure Regulators
Gas Safety Shut Off Systems
PLEXOR Wigersma & Sikkema
Pressure Switches
Valves
Other Products
Hauck Gas Beta Burner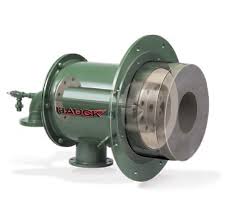 Hauck's BBG Gas Beta Burner is designed for durability and long life in continuous or intermittent operation in a wide variety of
heating environments. Low air and fuel pressure requirements make it an ideal all-purpose burner for applications including thermal fluid heaters, oxidizers, rotary kilns, gypsum kettles, air heaters, and incinerators. The BBG operates in applications under pressure or suction. Burner capacities range from 3.1 million to more than 123 million Btu/hr (820 to 32,520 kW).
The burner is designed to operate on any clean industrial fuel gas with a higher heating value greater than 500 Btu/scf (19.7 MJ/nm3) with ambient or preheated combustion air. The BBG can meet stringent emissions requirements in most applications and is well suited to work with a firing tube or with flue gas recirculation (FGR).

On ratio turndown is approximately 10:1 with higher thermal turndown possible with excess air firing. Nominal burner air supply pressure is 16 osig (68.9 mbar). Nominal gas supply pressure is 4 osig (17.2 mbar). Hauck recommends the use of a self-supporting refractory or alloy tile for soft and hardwall applications. An optional mandrel for field pouring of a burner port can be supplied.

Direct spark ignition is available on the BBG_204 through _212 burners, while gas pilot ignition is available on all burners.
Have you got a question?
Phone us on (03) 9763 6335 or send a message...
Complete and send the enquiry form below and we'll get back to you ASAP