Products
Actuators
Burner Controllers
Combustion Air Fans
Digital Test Equipment
Gas Filters
Gas Detection
Gas Meters
Gas Metering Communication & Data Collection
Heat Exchangers
Industrial Burners
Package Burners
Gas Pressure Regulators
Gas Safety Shut Off Systems
PLEXOR Wigersma & Sikkema
Pressure Switches
Valves
Other Products
Hauck NovaStar Ultra Low NOx Burner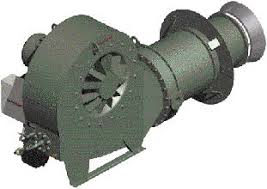 Utilizing the latest patented lean burn premix technologies, the NovaStar offers design and performance advantages with service accessibility and ease of installation.
Available in various sizes the NovaStar is ready to meet your production needs and even the most stringent air quality standards
with ultra-low nitrogen oxide (NOx) emissions on gaseous fuels without the added expense of flue gas recirculation (FGR) technology.
The NovaStar employs variable frequency drive (VFD) technology for precise airflow control over its entire operating range. Combining precise air flow control with real-time fuel flow measurement results in maximum efficiency and cost savings. The use of this VFD technology offers energy savings via reduced electricity consumption as illustrated in the adjoining chart.
The burner can be easily operated and effectively managed with PLC-based control provided by Hauck's BCS products.
The burner produces a compact flame making it suitable for all drum sizes and types. This further reduces emissions by completing all combustion within the short combustion zone eliminating flame quenching from process materials.
Have you got a question?
Phone us on (03) 9763 6335 or send a message...
Complete and send the enquiry form below and we'll get back to you ASAP