Products
Actuators
Burner Controllers
Combustion Air Fans
Digital Test Equipment
Gas Filters
Gas Detection
Gas Meters
Gas Metering Communication & Data Collection
Heat Exchangers
Industrial Burners
Package Burners
Gas Pressure Regulators
Gas Safety Shut Off Systems
PLEXOR Wigersma & Sikkema
Pressure Switches
Valves
Other Products
Hauck StarJet Open-Fired Multi-Fuel Burner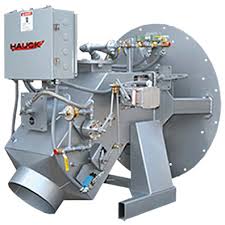 The StarJet continues Hauck's longstanding reputation for providing efficient and durable burners for the asphalt industry. The burner is designed to recirculate the hot gases, providing flame stability over its wide operating range. This eliminates the need for refractory ignition tile and combustion chamber. The StarJet can have the short, bushy flame for drum mixing or a long flame depending on the application. The burner's wide turndown is particularly useful when lower production rates are desired, such as when making cold patch material.
* Heavy and waste fuel oils require
heating and filtration. 90 SSU
or less viscosity required.
The StarJet fires all commercial grades of fuel oil, natural gas, LP, and landfill gas. As a combination burner, the StarJet will burn any two fuels in combination with the exception of LP in the liquid state and fuel oil. When these two fuel combinations are desired, it is necessary to specify the primary fuel and purchase the separate atomizer set assembly for the standby fuel.
The StarJet also provides greater flexibility in mounting a burner/blower combination on dryer frames in confined spaces. This
mounting flexibility is achieved by a 45º air entry available at the 3, 6, 9, or 12 o'clock position, providing a wide range of burner/blower angle arrangements. The burner air inlet is the same diameter as the Hauck Turbo Blower outlet. Hauck's line of standard and high-pressure direct-drive blowers matched to the StarJet burner simplifies installation
Flame shaping is achieved by moving the adjustment lever at the side of the burner. This lever is directly linked to the adjustable spin vanes. This feature greatly reduces setup time at initial startup or whenever the plant is relocated and permits finetuning
when mix changes require a change in flame shape and intensity. The operator can ensure that flame shape and intensity are always optimal because fine-tuning can be accomplished in minutes instead of hours.
StarJet fuel manifolds and air systems conform to the standards of the National Fire Protection Association (NFPA). The StarJet burner is fitted with automatic valving and controls to allow for full flame supervision and optimum compatibility with Hauck combustion control systems. Specifically designed for asphalt plants, these control systems are described in separate data sheets.
Have you got a question?
Phone us on (03) 9763 6335 or send a message...
Complete and send the enquiry form below and we'll get back to you ASAP