Products
Actuators
Burner Controllers
Combustion Air Fans
Digital Test Equipment
Gas Filters
Gas Detection
Gas Meters
Gas Metering Communication & Data Collection
Heat Exchangers
Industrial Burners
Package Burners
Gas Pressure Regulators
Gas Safety Shut Off Systems
PLEXOR Wigersma & Sikkema
Pressure Switches
Valves
Other Products
Honeywell R4348 Flame Relay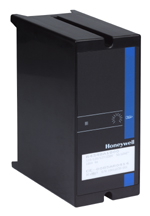 The R4348B is a flame switch for continuous operation to indicate presence or absence of a flame and to be applied in large commercial or industrial burner installations.
The R4348B includes a 3-pole flame relay which is energized when flame is sensed and de-energized when "no-flame" is sensed as well as a 3-pole line voltage "load relay". For all type of burners with unlimited capacity.
Have you got a question?
Phone us on (03) 9763 6335 or send a message...
Complete and send the enquiry form below and we'll get back to you ASAP