Products
Actuators
Burner Controllers
Combustion Air Fans
Digital Test Equipment
Gas Filters
Gas Detection
Gas Meters
Gas Metering Communication & Data Collection
Heat Exchangers
Industrial Burners
Package Burners
Gas Pressure Regulators
Gas Safety Shut Off Systems
PLEXOR Wigersma & Sikkema
Pressure Switches
Valves
Other Products
Honeywell Safire DBC Series Burner Control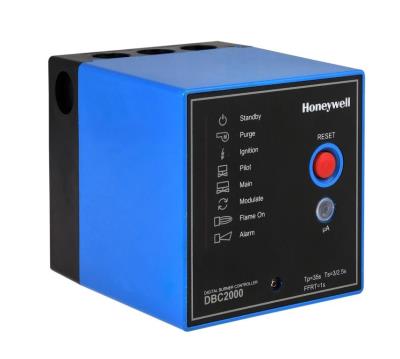 "NEW" Honeywell DBC2000 is a microprocessor-based integrated burner controller for automatically fired gas, oil or combination fuel industrial single burner power burner applications. The DBC2000 system consists of the relay module and wiring subbase. The DBC2000 Standard Model provides the minimum requirements to control an industrial burner system, such as automatic burner sequencing, flame supervision, system status indication, system or self-diagnostics and troubleshooting. The DBC2000 Enhanced Model includes an integrated Valve Proofing System, whilst the Ultimate model includes modbus communication on top of this.
Have you got a question?
Phone us on (03) 9763 6335 or send a message...
Complete and send the enquiry form below and we'll get back to you ASAP