Products
Actuators
Burner Controllers
Combustion Air Fans
Digital Test Equipment
Gas Filters
Gas Detection
Gas Meters
Gas Metering Communication & Data Collection
Heat Exchangers
Industrial Burners
Package Burners
Gas Pressure Regulators
Gas Safety Shut Off Systems
PLEXOR Wigersma & Sikkema
Pressure Switches
Valves
Other Products
Maxon 300 OXY-THERM Gas Burner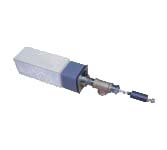 OXY-THERM 300 Series Gas Burners offer capacities up to 88 kW with choice of two block shapes and provide clean combustion with low NOx levels. OXY-THERM 300 Series Industrial Burners use oxygen for the combustion reaction, removing atmospheric nitrogen as a source for NOx creation. OXY-THERM burns any gaseous fuel, including fuels that may be unstable using air for combustion.
Have you got a question?
Phone us on (03) 9763 6335 or send a message...
Complete and send the enquiry form below and we'll get back to you ASAP