Products
Actuators
Burner Controllers
Combustion Air Fans
Digital Test Equipment
Gas Filters
Gas Detection
Gas Meters
Gas Metering Communication & Data Collection
Heat Exchangers
Industrial Burners
Package Burners
Gas Pressure Regulators
Gas Safety Shut Off Systems
PLEXOR Wigersma & Sikkema
Pressure Switches
Valves
Other Products
Maxon CROSSFIRE Line Burner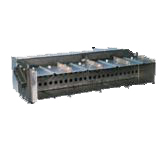 The design of the CROSSFIRE burner allows for extremely low emissions of both NOx and CO. Impingement on a series of jets containing a substantially homogeneous mixture of fuel and air creates stability and extremely short flame lengths.
The high excess air converts into low NOx levels. The inherently stable design allows operation of the burner in a fuel lean condition without creating high levels of CO.
Have you got a question?
Phone us on (03) 9763 6335 or send a message...
Complete and send the enquiry form below and we'll get back to you ASAP