Products
Actuators
Burner Controllers
Combustion Air Fans
Digital Test Equipment
Gas Filters
Gas Detection
Gas Meters
Gas Metering Communication & Data Collection
Heat Exchangers
Industrial Burners
Package Burners
Gas Pressure Regulators
Gas Safety Shut Off Systems
PLEXOR Wigersma & Sikkema
Pressure Switches
Valves
Other Products
Maxon CV & BV Butterfly Valve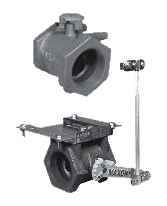 MAXON's Series "CV" Flow Control Valves incorporate a full-flow, fixed gradient butterfly valve design for high capacities at low pressure drops, using minimum operating torque. Series "BV" Balancing Valves are used to balance gas or air flows in multiple-burner systems fed by a common manifold. These gas valves feature a full-flow butterfly design with provision for locking in any position. Both flow control valves are used for air, gas and oil proportioning control.
Have you got a question?
Phone us on (03) 9763 6335 or send a message...
Complete and send the enquiry form below and we'll get back to you ASAP