Products
Actuators
Burner Controllers
Combustion Air Fans
Digital Test Equipment
Gas Filters
Gas Detection
Gas Meters
Gas Metering Communication & Data Collection
Heat Exchangers
Industrial Burners
Package Burners
Gas Pressure Regulators
Gas Safety Shut Off Systems
PLEXOR Wigersma & Sikkema
Pressure Switches
Valves
Other Products
Maxon CYCLOMAX Low NOx Burner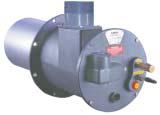 The CYCLOMAX Low NOx Burner provides clean combustion with NOx emission levels below 25 ppm and CO levels less than 75 ppm. Lower emissions may be possible based on application. The integral fan version of this industrial burner is available in 5 sizes, up to 3,700,000 Btu/hr (1080 kW), and the EBMRV version is available in 4 sizes, up to 7,400,000 Btu/hr (2165 kW).
Have you got a question?
Phone us on (03) 9763 6335 or send a message...
Complete and send the enquiry form below and we'll get back to you ASAP