Products
Actuators
Burner Controllers
Combustion Air Fans
Digital Test Equipment
Gas Filters
Gas Detection
Gas Meters
Gas Metering Communication & Data Collection
Heat Exchangers
Industrial Burners
Package Burners
Gas Pressure Regulators
Gas Safety Shut Off Systems
PLEXOR Wigersma & Sikkema
Pressure Switches
Valves
Other Products
Maxon HG Mixing Tubes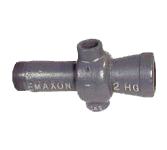 HG Mixing Tube provides a thoroughly blended air/gas mixture. The higher gas pressure allows use of a lower pressure combustion air blower. In combination with a Maxon MICRO-RATIO flow control valve and combustion air blower, the HG Mixing Tube can provide localized mixing of air and fuel to single or multiple industrial burner systems. Adjustment is simple through single point proportioning.
Have you got a question?
Phone us on (03) 9763 6335 or send a message...
Complete and send the enquiry form below and we'll get back to you ASAP