Products
Actuators
Burner Controllers
Combustion Air Fans
Digital Test Equipment
Gas Filters
Gas Detection
Gas Meters
Gas Metering Communication & Data Collection
Heat Exchangers
Industrial Burners
Package Burners
Gas Pressure Regulators
Gas Safety Shut Off Systems
PLEXOR Wigersma & Sikkema
Pressure Switches
Valves
Other Products
Maxon OXY-THERM LE Gas Burner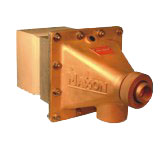 OXY-THERM LE Gas Burners provide the lowest NOx levels of any industrial oxygen/fuel burner, regardless of oxygen purity. NOx levels are up to 70% lower than conventional oxy-gas burners and up to 50% lower than conventional oxy-oil burners. OXY-THERM LE Industrial Burners have substantially improved product quality worldwide while reducing fuel usage and emissions produced per ton of product.
Have you got a question?
Phone us on (03) 9763 6335 or send a message...
Complete and send the enquiry form below and we'll get back to you ASAP