Products
Actuators
Burner Controllers
Combustion Air Fans
Digital Test Equipment
Gas Filters
Gas Detection
Gas Meters
Gas Metering Communication & Data Collection
Heat Exchangers
Industrial Burners
Package Burners
Gas Pressure Regulators
Gas Safety Shut Off Systems
PLEXOR Wigersma & Sikkema
Pressure Switches
Valves
Other Products
Maxon RadMax Burner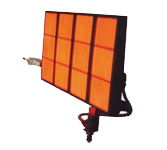 RadMax Radiant Low NOx Burners are designed to deliver uniform, high-intensity radiant energy for moisture removal in textile and paper ovens, paint drying, and powder coating, as well as many pre-heat, plastic forming, heat treating and annealing operations. With innovative ceramic or metal foam tiles, the RadMax natural gas burner produces low to Ultra-Low NOx and CO levels for a wide variety of industrial gas burner applications.
RadMax™ Burners can economically increase production rates, reduce seconds and defects caused by improper or uneven heating or drying, and reduce downtime and maintenance costs when the need for service or repair arises
Have you got a question?
Phone us on (03) 9763 6335 or send a message...
Complete and send the enquiry form below and we'll get back to you ASAP