Products
Actuators
Burner Controllers
Combustion Air Fans
Digital Test Equipment
Gas Filters
Gas Detection
Gas Meters
Gas Metering Communication & Data Collection
Heat Exchangers
Industrial Burners
Package Burners
Gas Pressure Regulators
Gas Safety Shut Off Systems
PLEXOR Wigersma & Sikkema
Pressure Switches
Valves
Other Products
Pietro Fiorentini Governor without Filter Regulator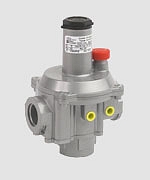 Pietro Fiorentini self-operated pressure governors are suitable for a wide range of installations inclding both indoors and outdoors. The governors are the ideal solution for appliance feeding of low pressure gas, both domestic and industrial. The materials and components allow the governors to operate on various gas types including Natural Gas, LPG and any other non-corrosive gases. All Pietro Fiorentini governors are equipped with a balanced shutter that provides high accuracy in the regulation of the outlet pressure, even in case of high and sudden variations in the inlet pressure.
Have you got a question?
Phone us on (03) 9763 6335 or send a message...
Complete and send the enquiry form below and we'll get back to you ASAP