Products
Actuators
Burner Controllers
Combustion Air Fans
Digital Test Equipment
Gas Filters
Gas Detection
Gas Meters
Gas Metering Communication & Data Collection
Heat Exchangers
Industrial Burners
Package Burners
Gas Pressure Regulators
Gas Safety Shut Off Systems
PLEXOR Wigersma & Sikkema
Pressure Switches
Valves
Other Products
Pietro Fiorentini Reflux 819 Regulator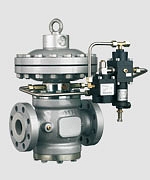 Reflux 819 is a pilot-controlled pressure regulator for medium and high pressure applications.
Reflux 819 is normally a fail to close regulator and specifically will close under the following conditions:
Breakage of main diaphragm
Lack of feeding to the pilot loop
This regulator is suitable for use with previously filtered, non-corrosive gases.
The Reflux 819 is modular in design and allows retrofitting of a monitor PM/819, slam shut valve, and/or silencer in the same body. The Reflux 819 regulator is truly a "top entry design" which allows for easy maintenance and retrofitting options in the field. The unique dynamic balancing system ensures an outstanding turn-down ratio combined with an extremely accurate outlet pressure control.
Have you got a question?
Phone us on (03) 9763 6335 or send a message...
Complete and send the enquiry form below and we'll get back to you ASAP