Products
Actuators
Burner Controllers
Combustion Air Fans
Digital Test Equipment
Gas Filters
Gas Detection
Gas Meters
Gas Metering Communication & Data Collection
Heat Exchangers
Industrial Burners
Package Burners
Gas Pressure Regulators
Gas Safety Shut Off Systems
PLEXOR Wigersma & Sikkema
Pressure Switches
Valves
Other Products
Riello 40 F Series Package Light Oil Burner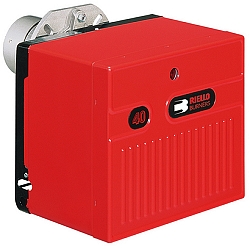 The Riello 40 F series of one stage light oil burners, is a complete range of products developed to respond to any
request for light industrial applications. The Riello 40 F series is available in three different models, with an output ranging from 30 to 202 kW, divided in three different structures. All the models use the same components designed by Riello
for the Riello 40 F series. The high quality level guarantees safe and reliable operation.
Have you got a question?
Phone us on (03) 9763 6335 or send a message...
Complete and send the enquiry form below and we'll get back to you ASAP