Products
Actuators
Burner Controllers
Combustion Air Fans
Digital Test Equipment
Gas Filters
Gas Detection
Gas Meters
Gas Metering Communication & Data Collection
Heat Exchangers
Industrial Burners
Package Burners
Gas Pressure Regulators
Gas Safety Shut Off Systems
PLEXOR Wigersma & Sikkema
Pressure Switches
Valves
Other Products
Riello PRESS N Series Two Stage Heavy Oil Burner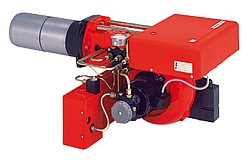 The PRESS N series of burners covers a firing range from 171 to 1140 kW and they have been designed for industrial applications. Operation is two stage, a servomotor adjusts automatically for the air damper opening to obtain the right air delivery on both
stages. The burners are fitted with a microprocessor control panel which supplies indication of operation and diagnosis
of fault cause.
Have you got a question?
Phone us on (03) 9763 6335 or send a message...
Complete and send the enquiry form below and we'll get back to you ASAP