Products
Actuators
Burner Controllers
Combustion Air Fans
Digital Test Equipment
Gas Filters
Gas Detection
Gas Meters
Gas Metering Communication & Data Collection
Heat Exchangers
Industrial Burners
Package Burners
Gas Pressure Regulators
Gas Safety Shut Off Systems
PLEXOR Wigersma & Sikkema
Pressure Switches
Valves
Other Products
TPI 100-EZ Multimeter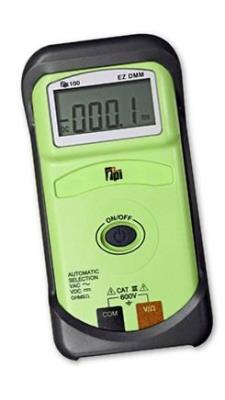 TPI 100-EZ is simple to use, no more guessing what function to switch your multimeter to the 100-EZ does it automatically.
Automatically switches between ACV, DCV, and ohms (resistance). Benefit: Simple to use. Meter selects function and range, just connect the leads to the device under test.
Single button operation. Benefit: Easy to use. Enables users with limited knowledge to perform tests safely.
0 to 600 volts AC and DC. Benefit: Enough range to safely perform measurements.
10 MΩ internal impedance. Benefit: High impedance prevents inaccurate reading caused by circuit loading.
Auto power off. Benefit: Increases battery life by turning off the multimeter when not in use.
4,000 count display
Up to 40MΩ
cULus 61010-1
CAT II – 1000V, CAT III – 600V
Have you got a question?
Phone us on (03) 9763 6335 or send a message...
Complete and send the enquiry form below and we'll get back to you ASAP