Products
Actuators
Burner Controllers
Combustion Air Fans
Digital Test Equipment
Gas Filters
Gas Detection
Gas Meters
Gas Metering Communication & Data Collection
Heat Exchangers
Industrial Burners
Package Burners
Gas Pressure Regulators
Gas Safety Shut Off Systems
PLEXOR Wigersma & Sikkema
Pressure Switches
Valves
Other Products
TPI 712 Combustion Analyser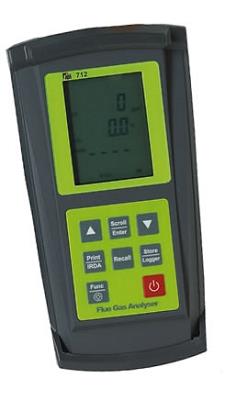 Model 712 Combustion Analyser - 5 TOOLS IN ONE
Rechargeable combustion efficiency analyser, CO analyser, differential thermometer, differential manometer & combustible gas leak detector.
> Fast and easy set-up
> Measures CO, O2, pressure & temperature
> Calculates CO2, efficiency, excess air, and CO air free
> Selectable fuels: natural gas, light oil, heavy oil, LPG, Bituminous Coal, Anthracite Coal, Coke, Butane, Wood, Bagasse
> Built in combustible gas leak detector set at 100 ppm sensitivity
> Built in differential manometer (+/- 15 kPa) with 3 selectable units of measure: kPa, mBar, inH2O
> Built in differential thermometer
> Pump driven for fast response
> Flue probe with built-in thermocouple
> Rechargeable battery and mains power
> IR printer port - use optional A740 Infrared Printer.
> Soft carrying case
> Protective rubber boot
Have you got a question?
Phone us on (03) 9763 6335 or send a message...
Complete and send the enquiry form below and we'll get back to you ASAP