Products
Actuators
Burner Controllers
Combustion Air Fans
Digital Test Equipment
Gas Filters
Gas Detection
Gas Meters
Gas Metering Communication & Data Collection
Heat Exchangers
Industrial Burners
Package Burners
Gas Pressure Regulators
Gas Safety Shut Off Systems
PLEXOR Wigersma & Sikkema
Pressure Switches
Valves
Other Products
Accutherm Accu-Test Touch Gas Safety Shut Off System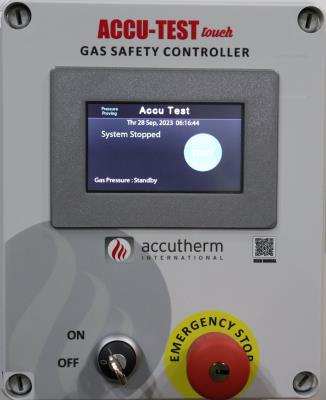 ACCU-TEST touch Gas Safety Controller
The Ultimate Solution for Safe and Reliable Gas Pressure Proving and Control
1. Safety First
· Designed and manufactured in Australia to comply with
Australian Standards AS/NZS 5601.1:2022
· User configurable settings to conform to a range of
applications
· Pressure proving, leak detection, low & high gas
pressure shut-down mechanisms ensure safety
during testing and operation
· Prevents potentially hazardous pressure with precision
2. User-Friendly Interface
· Intuitive full colour 4.3'' touch screen display for real-time
control and monitoring
· Simplified operation reduces the learning curve for users
· Passcode protection for enhanced security and access
3. Easy Installation and Retrofittable
· Effortless installation in new setups or retrofitting into existing
systems
· Streamlines the integration process for minimal downtime
· Seamlessly adapts to a variety of settings and applications
4. Education Institution Ready
· Designed to meet the specific needs of educational institutions, specifically AS/NZS 5601.1:2022 clause 5.2.9.1
· Features adjustable countdown timer for class runtimes
· Includes a 24/7 timer for shutdown out of hours
· Customisable high and low gas settings optimised for bunsen burner installations
5. Real-time Monitoring
· Live gas pressure readings for immediate fault identification
· Instantaneous display of fault messages for prompt corrective actions
· Enhanced safety during pressure tests with real-time feedback
6. Standard Additional Features
· Ventilation controls and interlock for mechanical ventilation
· BMS output for external monitoring
· FIP (Fire Panel) interlocks for synchronised safety responses during emergencies
· Various I/O options, including support for pressure switches, transmitters, and interlocks
7. Australian Built for Quality
· Proudly manufactured in Australia, with reliable performance you can count on
· Built with precision and adherence to strict quality standards
· Backed by our trusted reputation and customer support

Upgrade your gas pressure testing operations with the ACCU-TEST Touch Gas Safety Controller. Ensure safety, compliance, and ease of use in your school, kitchen, laboratory, or any other application requiring safe gas shut down, pressure proving, FIP or ventilation interlock.
Contact us today for more information and to request a quote.
Have you got a question?
Phone us on (03) 9763 6335 or send a message...
Complete and send the enquiry form below and we'll get back to you ASAP